Premium Villas in Croatia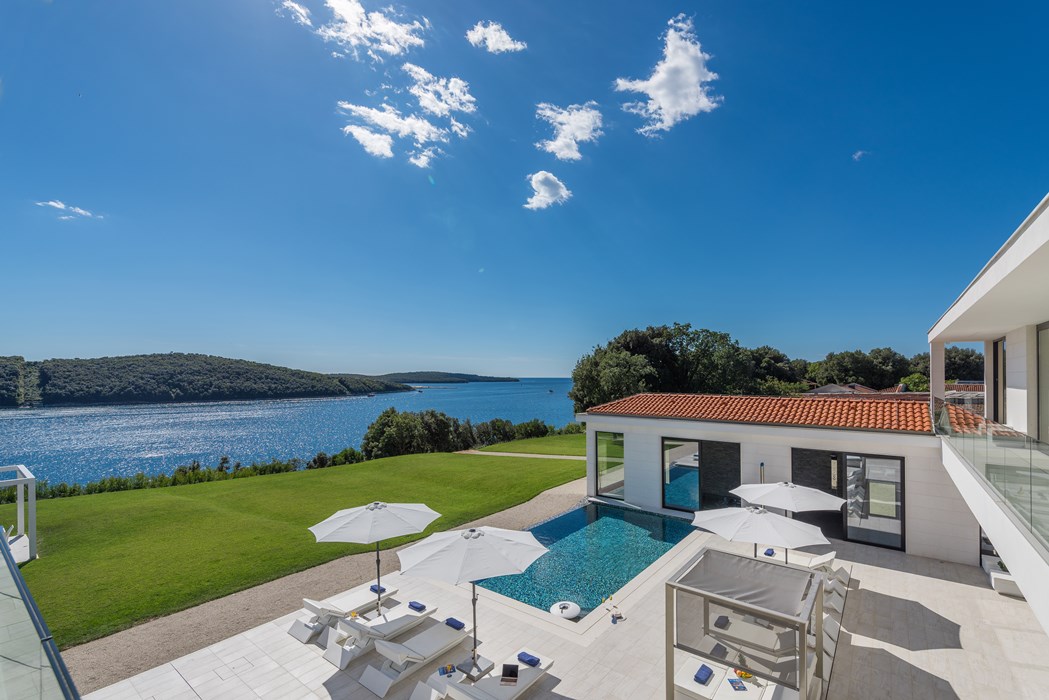 Of all our different categories, Premium Villas will surely be the icing on the cake.
Carefully selected luxury Premium Villas will provide you with a divine
and carefree vacation that you will remember.
All villas are hand-picked by our destination experts. We are convinced that, whichever you choose, you will have a superb holiday experience which is perfectly tailored to you.
Treat yourself to a privileged holiday experience.
Discover our portfolio of Premium villas that provide an accommodation experience that combines top luxury with comfort and extra services for a unforgettable vacation.
Architectural masterpieces, incredible positions, magnificent views, exceptional standards, all that and much more with Premium Villas @ Luxury Croatia Retreats.
If you are still looking for your dream villa, take a look at our collection of Premium villas- an unforgettable experience guaranteed.
VILLA LA REINA- POREČ, ISTRIA
Villa La Reina will be a completely new level of pleasure. Surrender to a magical place full of beautiful seascapes and typical Mediterranean beauty. It is located in Vrsar, a small tourist and fishing village on the west coast of Istria. The quiet and intimate location within the natural reserve of the Lim Bay will not leave anyone indifferent. Private access to the beach with the cleanest sea and all this with a wonderful panoramic view. Doesn't it sound perfect? You will be amazed by the wealth of cultural and historical heritage as well as the tourist offer of this region.
VILLA SANSAREA- KORČULA ISLAND
If you are looking for a place to relax all your senses and enjoy complete privacy just a few steps from the sea- Villa Sansarea will be your oasis of peace and the ideal starting point for numerous adventures. It is located on the island of Korčula, one of the most beautiful Mediterranean islands lined with magical coves and cliffs. The luxurious newly built Sansarea villa will satisfy even the most demanding. It is located on the very cliff, right next to the sea. Treat yourself to a dream vacation - a once in a lifetime experience.
VILLA VISTA HILLS- OPATIJA, ISTRIA
We invite you to spend your dream vacation in this luxury designed beauty. Villa Vista Hills is located on a hilly terrain with a wonderful view of the sea and the bay. With majestic seaviews, spacious and minimalist interiors, outdoor areas and a beautiful garden with colourful Mediterranean plants, Villa Vista Hills is an ideal place to spend your holiday in the privacy of a relaxing environment. The location will delight you, the city of Opatija, the cradle of Croatian tourism, is at your fingertips.
VILLA VALENS RESIDENCE- ROVINJ, ISTRIA
A villa in which traditional architecture and modern design perfectly blend - the Valens Residence villa. In this luxurious villa you will find everything for a relaxing holiday and escape from the hectic everyday life. It is located in the small town of Radetići in the continental part of Istria, near the town of Rovinj. You will be surrounded by beautiful green landscapes that you can admire from the comfort of your villa or perhaps on walking or cycling tours.
Each villa is designed in a unique and spectacular way, from modernist minimalism to artistic décor, from shabby chic to authentic traditional furnishing and each of them creates a different atmosphere.
We are always looking for the best premium luxury villas in Croatia, so take a look at our premium villas category, you might find something for yourself along the beautiful Croatian coast.